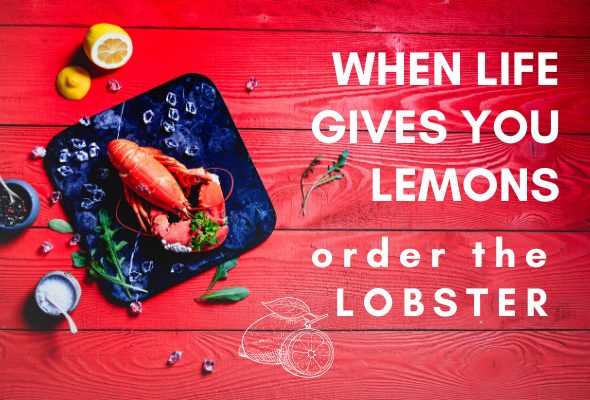 No, SERIOUSLY! Order the Lobster, it's the last week!
Please check out the menu below for September 10-12th!
KITCHEN HOURS: 4:30-7:30PM
Please note ALL ORDERS must be called in, whether you are eating in the building or opting for traditional take out. To order please call between 4:30PM and 7:30PM, our phone number is 1-508-790-0399.
All orders placed will be available for pick up in 15-20mins. Call ahead orders for a later pickup time will not be permitted. We will ask you to call back.
When ordering takeout, please note that you must ring the bell at the kitchen door and step behind the table. We will still continue to uphold a no contact pay/pick up routine, and ask that you please respect these rules.
Thursday-9/10
rice pilaf, broccoli
NY strip steak – $18
grilled salmon with balsamic glaze- $16
lobster roll- $18, w/chowder- $20
lobster Caesar- $18
turkey, stuffing & cranberry wrap w/fries- $10
crispy cod sandwich w/fries- $10
burger w/fries- $10
chix tenders w/fries- $8 (plain or honey bbq)
dessert: 7 sins chocolate cake- $4
Friday-9/11
mashed potatoes, niblet corn
fish & chips- $14
fries shrimp- $15
fried scallops- $18
10 oz filet mignon- $22
grilled salmon with balsamic glaze- $16
lobster roll- $18, w/chowder- $20
lobster Caesar- $18
simply cod- $14 (butter, lemon, wine, crumbs)
lemon tarragon scallops- $18
roast 1/2 chicken w/ all the fixins- $14 (mashed potatoes, stuffing, cranberry sauce)
burger w/fries- $10
chix tenders w/fries- $8
dessert: 7 sins chocolate cake- $4
Saturday-9/12
baked potatoes, green beans
10 oz filet mignon- $22
grilled salmon with balsamic glaze- $16
lobster roll- $18, w/chowder- $20
lobster Caesar- $18
simply cod- $14 (butter, lemon, wine, crumbs)
lemon tarragon scallops- $18
roast 1/2 chicken w/ all the fixins- $14 (baked potatoes, stuffing, cranberry sauce)
meatballs & sausage w/linguine- $14
burger w/fries- $10
chix tenders w/fries- $8
dessert: 7 sins chocolate cake- $4